Coffee Mornings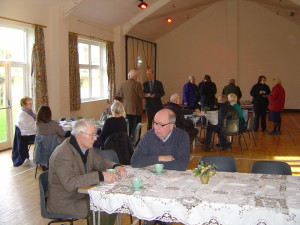 These popular social occasions are held in Kimbolton Village Hall on the second Wednesday of each month between 10.30 am and 12.00. They are a good way of keeping in touch and meeting new people. There is a regular Raffle with all proceeds going to the charity chosen for the month. The Book Stall offers a selection of reasonably priced hardbacks and paperbacks with a mixture of fiction and non-fiction alike (hardbacks are priced at £1.00 and paperbacks at 50p).
Proceeds of the mornings go to Charities and the Village Hall fund. Anyone who wishes to nominate a charity for a coffee morning is invited to do so and if you have a particular cause that you wish to raise funds for please do not hesitate to inform Liz Davies on 01568 615367. Most people nominate a local charity but we also support the national ones. We take part in the annual MacMillan Coffee Morning and although these have always been held on a Friday we shall be holding them on a Wednesday fixture from 2016.
Coffee mornings are occasionally held at Hamnish on a Saturday morning with proceeds going towards the upkeep of the Hamnish Village Hall. These relaxed and friendly get togethers are perfect for all ages and are particularly popular with families.
The Village Hall Committee participates in the Operation Christmas Child Charity campaign each year by combining a coffee morning with a present wrapping and gift box making session. These are always well attended and an important date in the diary. For details of Hamnish coffee mornings or general information about the use of the Hamnish Village Hall please contact David Cornwallis on 01568 760243 or go to the Village Halls page on this website.
Both Kimbolton and Hamnish coffee mornings are  posted on the events diary.  Visitors are always welcome.
Neighbourhood Plan
The future of our Community. Homes, schools, transport, facilities
... make sure your voice is heard